More to Miami Than South Beach
Apparently I LOVE sweating like a horse. Miami in summer? Sign me UP!!! When opportunity presents itself, I take action, especially when it comes to travel & exploration. Garrett & Wyatt flew and met me in Miami while I was there on business and we extended the trip into the weekend (three plane tickets for the price of one sure rings opportunity bells, AmIRight?). Everyone reading this should go buy Garrett a Father's Day of the Century card immediately as he took on a flight with Wyatt solo – (I have yet to do this). Back to the opportunity bells.. I don't want to turn 80 and find myself saying, "it would have been nice to do A-Z." That's like, the ultimate low buzz quote. My kryptonite.
Let me knock out how traveling with an infant without the damn car seat to a city considered on the surface, "not really kid friendly" was perfectly fine and doable. Once you can get past one hurdle – getting to/from the airport. Free sailing from there.
If you are NOT renting a car because there are so many other ways to get around, then why take the damn car seat. *FAST 90MPH CURVEBALL HERE* There are no Uber with car seats in Miami. WHYYYYYYYYYYYY. Ugh. In Orlando, this is our favorite option. In Miami, nadda. Uber with car seat options are only available in like 3 cities – New York, Orlando, DC. (Uber gods – please make this available everywhere). Ok, so what do we do? Taking the damn car seat is an option, but not a good one IMO when it's only needed for a 20-minute ride to/from the airport. Also, that sounds horrible to carry around as a solo person juggling the baby and a bag and a small stroller. I know they make backpack car seat bags, and the car seat dolly systems, but again handling that & the stroller that you will actually use once you arrive.. still hmmmm. Anyway, the next best option in my mind is a bus, since they do not require car seats that I've ever encountered (even in the US). There is definitely a bus that goes from the airport to South Beach (we stayed right in the heart on Collins Avenue). This bus is less than $3 each way. DIRT CHEAP. It's called the Airport Flyer Bus. Plot twist – we didn't go with this option either – simply because I didn't have the time or energy to spend investigating further before needing to book something for G & W. End story – we rented a car service with a car seat that ended up costing $70 each way. Like I said, once we were over that sideways eye roll of a cost, we moved onward and upward.
Take only the baby transport mode you will use during the trip. This means if you cannot wheel a stroller around say, cobblestone streets in old Europe, a stroller might not make the most sense to take just to use at an airport – because – then what? I guess use it at the airport and leave it sit in the hotel. But, for us antsy folks, we move around a lot and also room square footage could make for a tight space already. If your baby can ride in a carrier, that would be all you'd need. In our case in Miami, we knew the sidewalks are all stroller friendly, so the little, fantastic, non-sponsored Zoë is all that we took.
Stay in a good location where you can walk around easily. Walking around = definitely no car seat needed. If you're cosleeping I guess you're set. If not, we try to pick places that offer "infant cribs" aka pack and plays because – you guessed it – don't want to take it. Staying right on Collins Avenue gave us easy access to watch the sunset from the beach every damn morning, jog the paved beach path, and walk to so many locations including the Art Deco District. We found a playground in Lummus Park right across the street from the Leslie (1200 block of Ocean Drive) during our self navigated Art Deco walk.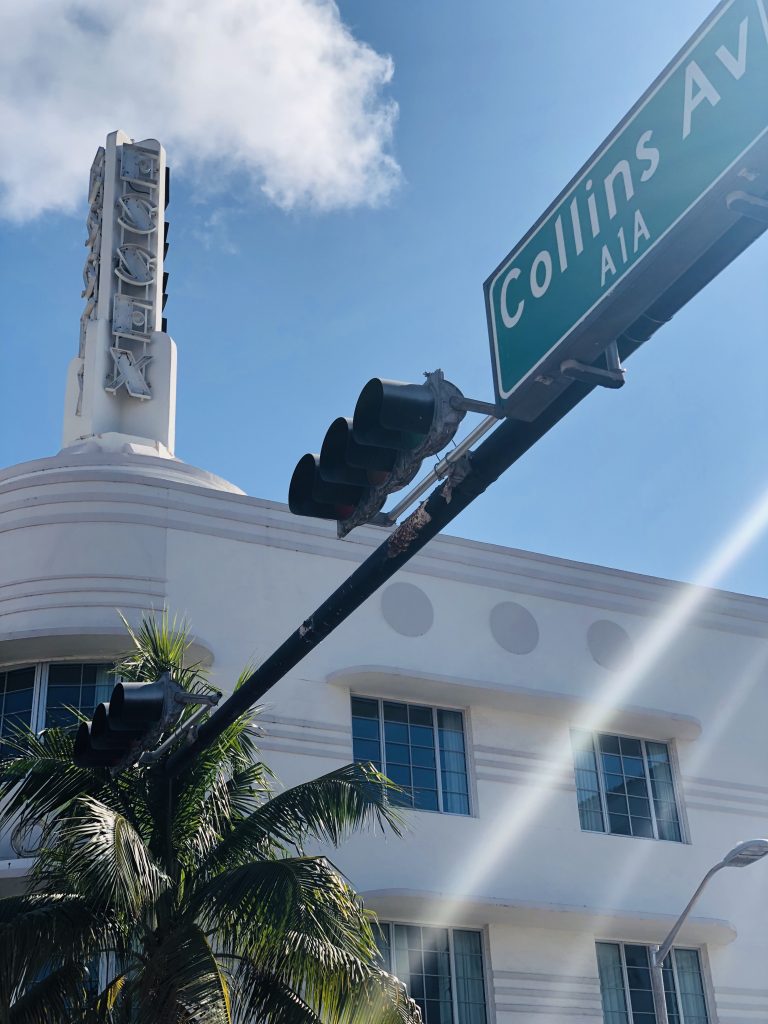 Ahhh the Hop On Hop Off Bus. These may sound cheesy to some, but we love them. Kids or no kids. It's so easy to get around and take a break from navigating! On the HOHO's you can hear a few facts about the city while your hair whips wildly in the wind if you're on the top deck, and see most all of the main sights to get the lay of the land. You can jump off at any of the stops, there is a nice map to track the bus and see said stops, it's not expensive, and no child car seat needed. Not going to lie, I found myself chuckling as we're on the top deck of an open air bus with an infant in lap (of course holding him tightly) that it is perfectly allowed but yet Uber with car seats were nowhere to be allowed in Miami. The HOHO stop closest to our hotel was only a block away!
We were so curious on Little Havana – an authentic Cuban neighborhood/section of Miami which is about as close to going to Cuba as you can get without actually going. And in what weird ass timing since right after our return, our President just halted all travel to actual Cuba.
Three words: CULINARY FOOD TOUR. My god. Mojitos, Cuban Sandwiches, Guava Perfection (literally – in the form of a pastry with cream cheese & guava), handmade fruit juice, ICE CREAM, Empanadas.. all within about a 2.5 hour window.
Mojitos lined up for DAYS.

Authentic Cuban.

Guava PASTRIES.

Such a catchy rhythm.
Within this block of time, you also get the cultural aspect as you stop in all of the colorful spots along the main drag – Calle Ocho. One cultural spot in particular is the Domino Park. How freaking cool is that? Sit outside and play dominos. Maybe I only think it's cool because I loved to play this as a child and also I feel like we see people playing poker and cards all of the time.
Packed house playing dominos in Little Havana

Domino Park in Little Havana. You can tell which tables are playing for money and which are just playing for fun.
The HOHO (Hop On Hop Off) Bus also drove us through the Wynwood neighborhood which is yet another top thing to see in Miami – and I can see why – definitely WAY more WOW factor than I expected. This is like top of the line graffiti ART. On everything. Including the cement factory. We were like, "oh this is awesome" yet didn't pull out any cameras as we intended to go back and walk around to take some time there but it just didn't happen. Give and take, give and take I suppose… More reason to head back to Miami. That, and another Cayanne Chocolate icecream cone from Azucar in Little Havana. *DROOLLL*