One Thing More Scary Than Flying With A Baby? Regret.
The looks I have gotten from some people when I told them that we're taking our two-month-old to Belgium and The Netherlands could make emoji creators put in some serious OT hours trying to conjure up a face to match. It turns out, when you peel off the onion layers to get to the root cause of the psychosis face, it usually boils down to these four words– "what about the flight?"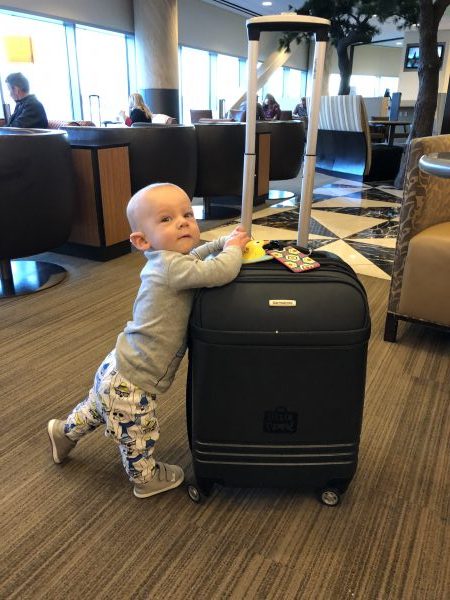 What ABOUT the flight? If you're going to get messed up sleep and your baby is still going to need fed, changed, and zonk out for cat naps no matter where you are, why the heck NOT be in Belgium and The Netherlands is the real question! I can't think of better use of maternity leave. After the visitors subside, traveling as a family – I really see no better-quality time/bonding opportunity here!
My thought process: I envisioned that instead of sitting in my living room or bedroom with an infant doing just those things (stare at baby/cuddle/feed/change/sleep/repeat), I replaced the environment with a plane background – like a straight up photoshop edit in my mind. So OK a littleeeeee less room to work with.. but still doing the same exact things as we would be doing at home.
I think people are so afraid they may forget one of the 23983724387 things that they received from their registry that they cripple at the thought of leaving to go to the grocery store, let alone travel thousands of miles. If you're still with me here though but still think I'm crazy, I need you to first, take a deep breath.. and say out loud, "if we forget to pack it, we can buy it." SAY IT! Because guess what? Babies are ALL OVER THE WORLD and other countries sell diapers and wipes and pacifiers and snacks.. I know – I'm as shocked as you are 😉
WHAT WE TAKE:
Bags – We take nothing but a 21" spinner and a bookbag for each adult. Check what you want, carry on what you don't want. We usually split items between multiple bags (i.e. the diapers we take).
Skip Hop baby changer pad – This is fantastic because it fits diapers, wipes, cream and even has room for an outfit change. Person #1 (aka the changer) grabs this when heading to the bathroom vs. taking in an entire bag. Person #2 waits with other bags/stuff.
Stroller – We take our Zoë stroller which only weighs 11lbs and can recline far enough for a teeny tiny buddy to be just fine in. It also fits in the overhead bin and check with your airlines, but this is usually fine to count as baby's carry on item. **We now have the Zoë double and gate check it!**
Baby Carrier – We also take our ergobaby 360 as this is great to just breeze through security with the baby still on and it's so versatile for all ages. Note: some countries will make you take the baby out of this though – bummer when baby is asleep…
Swaddle x2 – 1 to wear as a scarf on the flight over (if you follow my **wash clothes halfway through trip** rule, wash this later..) and 1 backup swaddle. 

**Whether we go for 3 days or 13 days, we take the same sized luggage. We plan to wash clothes about halfway or a little before halfway through our trip at either a local laundry mat or via services of Cruise Ship, Hotel, etc. This allows us to pack light and small and makes unpacking once we are back home really easy! It may seem like not a lot of stuff but it definitely is more than enough.

Blow up travel pillow per adult (please do not take a full size boppy pillow..*face palm*). This comes in handy when baby is asleep and you need to rest your weary arm on something soft besides an armrest.
Blanket for baby – Exactly 1 familiar baby blanket from home for use during sleeping upon arrival (or on plane if you aren't cool with the fleece ones the airlines provide for overseas flights).
Diapers/Wipes – Exactly enough diapers/wipes to get through until arrival at destination where you can then purchase diapers/wipes locally for remainder of trip.
Disinfecting Wipes – We love the Babyganics Alcohol Free Sanitizing Wipes – and wipe off everything upon boarding. The tray tables, arm rests, seat belt clips.. 
"BUT WHAT ABOUT THESE ITEMS?!
Carseat – I will always try to leave this at home. I love countries that do not require this – i.e. Taxis in Belgium. I felt safe wearing Wyatt in the ergobaby 360 for a taxi ride from the airport to our hotel. (If you don't feel safe doing that, you'd have to plan to bring your car seat.) The rest of the time we were mostly using trains and did not rent a car on this specific trip; therefore, no car seat needed for us. If we were renting a car, I would look into renting a car seat (which we've had good luck doing before in the States). In countries where you must have a car seat in all moving vehicles even taxis, we have purchased a private ride with a car seat ($$$) when we do not need a car seat for most all of the trip aside from to/from airports. So if you mustttt bring the carseat.. then bring it..
Pack & Play – I will always try to find accommodation that can provide this.
Pacis – Wyatt didn't use, so bring what you feel is adequate. You can always buy more.
Bottles – Wyatt didn't use, so bring what you feel is adequate. I've heard 3 bottles is a good rule of thumb. Saving a venti Starbucks/coffee cup and having flight attendants fill it with hot water is also another tip I've heard is helpful for warming. Bring bottle wipes to clean in a pinch.
I highly suggest anyone (and especially anyone with an infant) go far and wide on all trips desired immediately. I mean, maybe save a banana leaf hut deep in the heart of the Amazon for a kid-less trip, but go practically ANYWHERE else. Babies are so portable when they are unable to move much on their own!
Beyond Infancy (Baby on the Move) Age:
Basically everything above still applies, with the exception of toys.. dun dun dun. Your baby is now at an age that requires some sort of entertainment other than chewing on a fist or staring cross eyed (SO CUTE) at your face.
*Add to packing list Above*:
The Sidekick baby strap. This is the best type of "clip" for a toy, paci, anything that I've seen. The strap is adjustable to a long enough length for a toy and also adjustable to accommodate many different toys of all shapes and sizes.
3 toys (that hopefully can be placed on the Sidekick <above>)/books that your baby has never seen or played with before. If you're flying to/from overseas, your baby is hopefully sleeping a lot on the way over. On the way back though, this is typically awake time where they'll need some entertainment. And yes, the seatback magazines and safety cards will be your real toys.. sooo get creative..
The hope you get people behind you that like a good game of peak a boo.
Baby Bib – we've tried a few and love the OXO waterproof one the best. Lightweight, foldable/packable and easy to wipe off.
SNACK ATTACK:
Since I require my own endless amounts of snacks, this is simple for me. I never go anywhere without a food bag. Literally, a small reusable bag from Whole Foods that houses all of my food. I leave room in one of our bookbags for said food bag. Wyatt eats basically everything that we do, so alter for your own baby's needs.
You are allowed to take water through security if you have a baby/child in tow. The 3 ounce liquid rule does not apply when traveling with a baby or child in the United States < Formula, breast milk, juice in quantities greater than 3.4 ounces or 100 milliliters are allowed in carry-on baggage and do not need to fit within a quart-sized bag> So fill er' up sippie cup!
Diced up prunes/figs/dates – we love reusable snack bags for these kinds of things.
Cheese stick – Yes these are totally fine left out of the fridge for hours on end. I've been testing this for 18+ years now and it is fine.
Pouches – These have a time and place for us. We buy 1-2 for use during travel just in case we're in a pinch and need something quick for Wyatt.

**ANYTHING SPREADABLE IS CONSIDERED A TSA "LIQUID"!**

Ziplock/reusable snack bag of Saltine crackers/Baby cracker/Puffs – What baby isn't entertained by munching?
Bread/Nut Butter packet – aka "toast"
Apple sauce cups
Banana/other fruit
Plastic fork/knife/spoon – I always take these in my food bag. This way I always have a utensil to cut something up for baby that we might need to and also in case of just needing a utensil in general. Never know when the opportunity to use a spoon might arise!
Ohhhh fancy pants tip here – Airlines sometimes offer cots for infants (2 & under). Check your airline and purchase the seats that you can use a cot in. We didn't do this on Wyatt's first flight overseas, as he was light enough that we didn't mind holding him while he slept. After baby is a bit heavier, this was a gamechanger. Typically, even though Garrett wants an aisle seat, he takes the middle and I take the window when it's the three of us flying together. Seats in the bulkhead rows typically do not have moveable arm rests and this drives me insane. But, on a British Airways flight overseas, it was worth booking the bulkhead seat and dealing with the armrest issue in exchange for the baby cot. Also for what it's worth, the rows of seats in front of the exit row usually don't recline. You've been warned.
Also, I think a big part of "what about the flight?!" is "what about the baby's ears and the cabin pressure?!" Wyatt seemed to be totally fine on every flight he's been on. I'm not sure if cabin pressure has gotten more advanced or what but we haven't had an issue. We offer sips of stuff (milk/water/paci/anything you want to give your baby to promote swallowing) during takeoff/landing. Sometimes the timing works out that he wants it, other times it doesn't. *shrug emoji*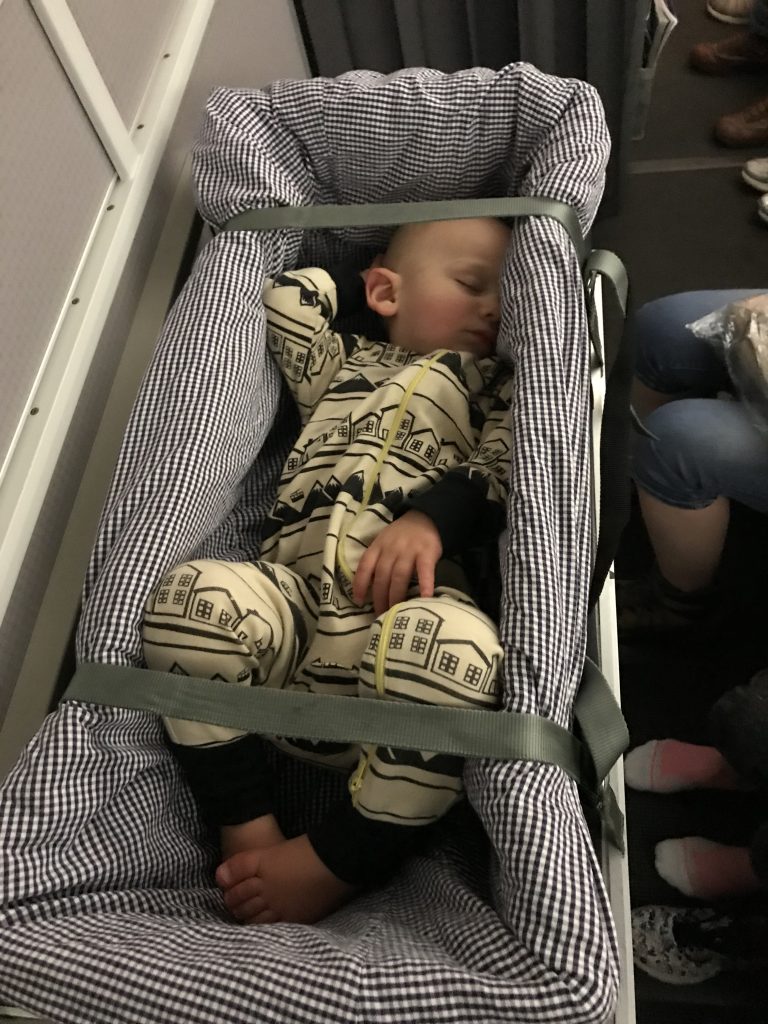 Obviously, I am not certified in anything mentioned above BUT I do know that the bottom line = overpacking leads to STRESS. Have you ever witnessed a person trying to handle 7 bags AND a car seat at an airport while pushing a crying baby in a stroller? This person is usually NEVER calm. But full disclosure, every baby, every parent, and every situation is DIFFERENT. So, if you don't mind and you need to take 7 bags and the car seat, then freaking do it. Do whatever it takes to fill your life with moments with your family. We get 18 summers with our kids. We get 1 life. And all we have to do is board the plane.